Digging Up Local SEO Keyword Gold with the Google Places Dashboard & Google Analytics
Digging Up Local SEO Keyword Gold with the Google Places Dashboard & Google Analytics
As a local business there is always the desire to drive business from neighboring cities.  When it comes to local search, its no different.  In most cases the clients I talk to would target every city within a thirty mile radius for their local SEO efforts, but as we all know, this probably isn't the best strategy.  But how do you know what local areas to target, especially when keyword tools struggle with low volume searches in local search?
The first and most obvious choice is to look at your analytics.  Are you driving search traffic for keywords that include neighboring areas already?  This will oftentimes turn up some exciting opportunities that you can imrpove upon and gain more traction for.  But if you're not quite ranking and drawing traffic from neighboring areas, how can you get a feel for what areas you should be thinking about?  One option would be to use the Local Marketing Source Local Keyword Tool, which will give you an extensive list of zip code and city based keywords based off a set radius to work with.  But unfortunately there is nothing to back whether people are actually searching from those areas, or if those keywords would drive traffic.
Enter the Google Places Dashboard
When it comes to localized keywords there is a high probability that Google probably isn't reporting data for them, but Google Places has a feature that can give you some ideas on where to target simply based off of where people are getting driving directions from.  If you look in the bottom of your Google Places dashboard you will see a section called, ""Where driving directions requests come from".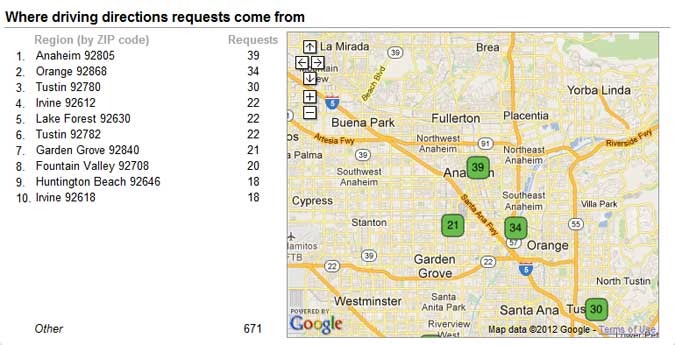 This section displays the top ten cities/zip codes that were used when getting directions to your business.  By using this information you can get a feel for some additional cities worth targeting simply based off of existing interest from customers visiting your location from outside your city limits.
Google Analytics for Local Keyword Ideas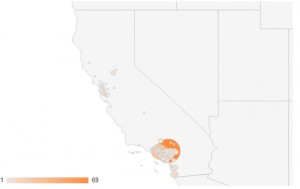 In the beginning of this post I mentioned Google Analytics is a good place to start when it comes to finding opportunities for localized keywords.  The initial suggestion was to look at existing traffic data over a period of time and see if users are already finding your site when doing searches for neighboring cities (you can do this by filtering results using the name of the city), however there is another section of Google Analytics that features some juicy local keyword ideas.
Under the "Demographics" report in Google Analytics you can drill down to the city level of where people who have visited your site are searching from.  This is another tool that can give you a starting point when trying to come up with other areas to target.  If there are already people visiting your website from neighboring cities, these might be opportunities for local areas to target on your website or in your marketing efforts.  As an added bonus you can set the secondary dimension to "Keywords" and find out exactly what term they used to find your site (assuming its not listed as "not provided". Grumble, grumble.)
Local keyword discovery can be difficult since even tools from the search engines can be unreliable due to low volume searches, but by utilizing local data from a couple of Google's location based tools you can get a decent starting point for your research and test a few different areas surrounding your business to work with.  You can test these on your website, or even better, run small pay per click campaigns to test the traffic and conversion of these keywords.