How to Convert Your Pinterest Account to A Pinterest Business Account
November 14th, 2012 by
Mike
Earlier today Pinterest made the exciting announcement about Pinterest for business showing their support for the growth of businesses using Pinterest as a means of engaging their audience.  With the announcement came a new business specific terms of service, new board and profile widgets, and access to some business case studies to help you get started.  But what was most impressive was the fact that Pinterest made all of this available with a conversion process already in place so that businesses with existing profiles didn't have to start over.
Converting Your Pinterest Account
If you're ready to convert your existing account into a business account simply head over to business.pinterest.com to get started. Once there click on convert your existing account to get started.  If you're just adopting Pinterest into your internet marketing strategy, you can also start as a business from this same page.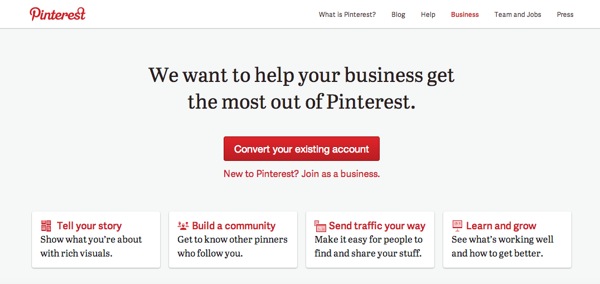 Completing Your Business Information
After clicking on Convert your existing account you will be taken to the screen to login to your account if you're not already logged in.  After logging in you will be prompted to fill in the appropriate business information for your business including business type, business name, description, website and the like. Note: You can choose "Local Business" as a category and as a local search geek I had hoped this would give some additional local options, but at this time it does not appear to add any additional details to your profile such as address or phone number.  As you can see from when I converted a business below, the fields automatically populate with the information Pinterest has about your business from your existing account.
After completing your business profile information, Pinterest will redirect you to your "new" Pinterest business profile.  Once there you will be given four steps for getting started as a business on Pinterest. The first of which is verifying your website, a new feature that Pinterest introduced to all users a few weeks back.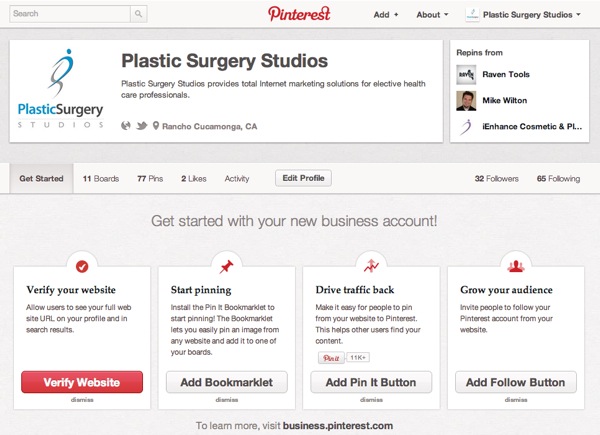 Verifying Your Website
If you haven't verified your website already, click on the "Verify Your Website" button to get started.  The verification process is easy, and only requires that you upload a file to your website that allows Pinterest to verify ownership of your site.  Once you click on "Verify Your Website" you will be taken to a screen that will allow you to download the file and then verify it has been uploaded.
After you've verified your website, your Pinterest Business Account is ready to go.  You'll notice that on the surface there isn't much of a difference to your account, but by the sounds of it the real value of having a Pinterest Business Account will come in the benefits available in the future.  As a business account owner Pinterest has shared that you will have access to upcoming features "that will provide more powerful ways of reaching and understanding your audience on Pinterest."  This leads me to believe businesses will hopefully have access to powerful insights and analytics tools in the future.
What do you think of the new business accounts? Will you be converting?
Looking for more tips on Pinterest? Be sure to check out some of my past posts on the topic:
More about: Pinterest