Gaining Social Media Success From Your Twitter Quitters
Gaining Social Media Success From Your Twitter Quitters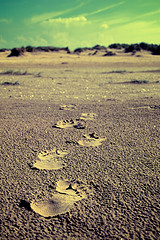 This past month I celebrated two milestones in the twittersphere. First I hit my two year anniversary of using Twitter and second I reached the 1,000 follower mark.  Personally, I've never put a lot of weight into follower numbers.  They can easily be inflated, they don't illustrate any sort of real influence, and ultimately unless you are using follower numbers as a goal, they don't offer a lot in terms of the measure of success.
That being said, about a week or so ago the Twitter follower tracking service, Qwitter began sending out e-mails again that notify you when someone has stopped following you.  It was in that moment that I started thinking about how using tracking services like Qwitter could provide an opportunity for businesses to help improve their efforts on Twitter.
The data collected from Qwitter provides businesses with a means of following up with people who stopped following their business on Twitter; people that could potentially provide some insight as to why the company is losing followers.  While this method isn't flawless, it's nothing new in terms of customer feedback and research.  Oftentimes when we unsubscribe or cancel a service we will receive a follow up questionnaire or be directed to a short form to provide feedback as to why we have opted to discontinue the service.  This same method could be applied using information from Qwitter.
Businesses could create a Twitter specific landing page that has a short questionnaire asking visitors why they stopped following the business on twitter. Then, using the e-mails sent from Qwitter they could sort through the un-follow notifications and contact legitimate followers (you know the one's who aren't playing the twit it and quit it game trying to sell you on their get rich quick schemes) via a tweet asking them to provide feedback as to why they stopped following the business on Twitter. Were you tweeting too much? Were you not engaging enough? Was it all about you, and not about your audience?  These are the kinds of questions you could ask in your questionnaire to aid in your efforts.
Does this open the door for some criticism because of an open tweet to a fellow twitter user about un-following you? Sure it does, but if you use it in a way that is right for your business and can benefit the social media efforts of your company as a whole then I think the good outweigh the bad.  If you're afraid of engaging followers this way you could always look for other opportunities to contact them outside the socialsphere, but you will be forced to invest that much more time and effort into the process.