About Mike Wilton
About Mike Wilton
At A Glance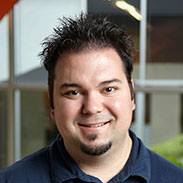 Name: Mike Wilton
Title: SEO Strategist
Site: www.mikewilton.com
Location: Corona, CA 92881
Short Bio: SEO Analyst at ymarketing. Blogger. Speaker.
Mike Wilton is an SEO Strategist at ymarketing, a digital marketing agency based in Newport Beach, California. Mike has been working on the web since 2002, originally coming from a design and development background.  He has an AA in Graphics Design from Platt College and extensive copywriting experience.
Mike has been a full time SEO and internet marketing strategist for over five years and prides himself in being able to offer a holistic approach to SEO ranging from on-page optimization and SEO-friendly copywriting to social media optimization and creative link building.
At ymarketing Mike is responsible for the creation of new SEO deliverables, strategies, and tactics for his clients.  Mike has worked on SEO for companies in the B2B, ecommerce, insurance, beauty, and local service and a variety of other verticals.
Mike is happily married and lives with his wife and two children in Corona, California.  On that rare occasion Mike is not on the web, you can catch him listening to music, spending time with his family or enjoying the great outdoors.
Professional Journey
Mike Wilton grew up in Southern California and after taking a stab at degrees in business, music, and computer information systems Mike finally earned an Associates Degree in Graphics Design from Platt College.  Despite the varying coursework, Mike had always had an interest in web design and development.  His interest lead him to teach himself how to hand code websites in HTML, which would ultimately help him launch a short-lived Orange County entertainment website dedicated to the events, attractions, and night life throughout Orange County.  However, Mike wouldn't get his start in professional web work until he started with Advanced Access, a leading real estate website hosting, design, and internet marketing company in Orange County, California.
Mike began his career at Advanced Access in the Customer Support division assisting clients with making changes to their website, troubleshooting problems with their website, and offering recommendations for SEO best practices for real estate.  Just over a year after starting with Advanced Access, Mike would get his first formal introduction to the theories of SEO through a promotion to the SEO team as a Website Marketing Specialist.  Here Mike developed the foundations for what would  become the core of his organic SEO strategies.  During that same period, he began experimenting with the social aspect of the web and started weighing the value of social media for marketing, as well as search engine optimization.
After two years as a Website Marketing Specialist, Mike took an opportunity offered to him by a former colleague to help build and establish an SEO team with Plastic Surgery Studios – an industry leader in total internet marketing for plastic surgeons, cosmetic surgeons, dermatologists, and cosmetic dentists around the globe.
After just a year working at Plastic Surgery Studios as an Internet Marketing Specialist, Mike was promoted to Internet Marketing Manager, where he helped develop and aid in the marketing strategies and solutions used by the company for their clients around the globe.  During his four year tenure with the company he provided consulting and strategic direction to the company in both their in-house and client side SEO and social media efforts.  He also became an integral part in developing relationships with major industry players such as RealSelf and Plastic Surgery Practice Magazine, and was invited to speak on Local SEO at the AAFPRS 2012 Fall Meeting in Washington, DC.  In mid-2012 he wrote two articles on SEO that were published in industry magazines, Plastic Surgery Practice and OFPSA.
In early 2013 Mike accepted a position with the Inc 500 company, ymarketing where he is an SEO Account Manager overseeing the SEO strategies for a variety of businesses from around the country.  Due to agency commitments, Mike is not taking on any new work as an independent consultant, offering SEO consulting and service to clients.  To see more of Mike's work be sure to check him out on Search News Central and Search Engine People where he has been a regular contributor, as well as this blog.