How To Effectively Pin Images from Tumblr Blogs To Pinterest
How To Effectively Pin Images from Tumblr Blogs To Pinterest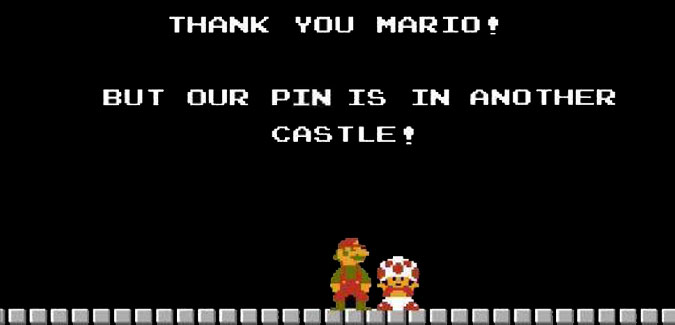 In my Pinterest Guide for the Every Day User I outlined how to get started on Pinterest with a handful of best practices when it comes to setting up your account and pinning content.  But I am seeing an annoying trend on Pinterest when it comes to pins from the microblogging network Tumblr.  Pinterest and Tumblr seem as though they would be a match made in heaven, however even the best visual content can be hard to engage when pinned incorrectly.
The nature of Tumblr makes it a fruitful source of image content, however pins from tumblr are oftentimes taken from the homepage of the blog, a location that the image will not permanently reside.
When you pin an image from a website onto Pinterest, it collects the URL from the website you collected the image from, however while an image may appear on the homepage of a tumblr blog, it will be pushed down deeper into the site as new posts are created.  Chances are by the time someone repins or clicks through to see the source of your pin, the image will no longer be on the blog's homepage and they'll need to click deeper into the blog if they want to find the original post.
Pinning from Tumblr So Your Source Can Be Found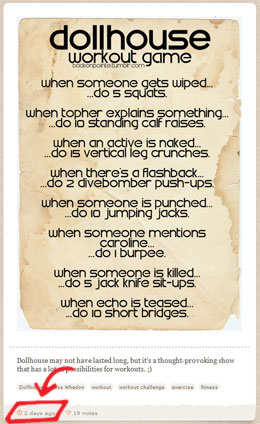 Let's pretend for a moment you wanted to pin the Dollhouse Workout from Back On Pointe, because let's face it, Dollhouse was awesome and so is working out.  Two days ago it was featured on the homepage, however today it now rests on page ten of the blog.  If you want to ensure that a user can access the original content on the source site you need to click on the time it was posted and then pin the image.  This will keep the integrity of the pin's URL and will make sure that a Pinterest user can visit the source of your pin at a later time without having to search for it.
Depending on the theme of the Tumblr blog this may vary.  Sometimes it will display the actual date instead of how long ago it was posted, other times you will need to click on the image to obtain the original post.  However, the key is to access the page where the image is housed so as not to lead users to a location that may not house the image in the future.  This will be the page that shows the entire post along with the history of likes, reblogs, etc.
So the next time you go and pin something from a tumblr blog (or any source for that matter), do yourself and your followers a favor and make sure to pin it from the source and not pin it from the homepage of the site.  Nobody wants to dig for the content your sharing.