In 4 Days Your Facebook Page Tabs May No Longer Exist
In 4 Days Your Facebook Page Tabs May No Longer Exist
OK, it's not really as dramatic as the title makes it out to be, but in the chaos surrounding all the new Facebook changes it seems that may people were left unaware that something bigger was coming down the pipe.  Earlier this year Facebook announced OAuth 2.0 and HTTPS Migration in their developers section.  With it came an October 1 deadline that required all page tabs and apps to be complient with the new rules.
To be compliant by October 1, the following items must be addressed:
all Website and Canvas apps must exclusively support OAuth 2.0 (draft 20)
all Canvas and Page Tab Apps must use the signed_request parameter
an SSL Certificate is required for all Canvas and Page Tab apps (not in Sandbox mode and not FBML)
A lot to absorb with just a few days left to comply.  Fortunately, if you are unable to address these issues in such a short notice your content will still be available, however Facebook users will be greeted with the message below.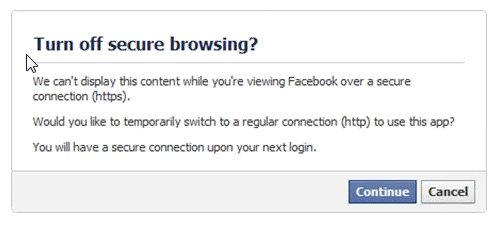 While this isn't due to roll out until October 1, I saw at least three instances today where a person was already being served this warning in place of a Facebook Page's welcome tab.  If you are using a third party service or app to generate your Facebook tabs on your pages I would highly recommend contacting them to ensure that your tabs will survive the October 1 change.
SSL certificates are easily to come by and are offered by most hosting providers or domain registrars.  Certificates vary in cost, so do a cost comparison to get the best value, especially if you are only utilizing the SSL certificate to manage your Facebook Page tab or apps.
In some instances hosting companies offer shared SSL for free, where you can host your content under a subdomain on their main domain instead of on your own personal domain.  This too is a viable option if it's available to you.