Infographics: You're Doing It Wrong
Infographics: You're Doing It Wrong
With sites like Piktochart making infographics easier for marketers and businesses to produce, there continues to be a strong interest in infographics for building brand awareness as well as backlinks.  But as infographics continue to be a popular means of content marketing, I see a lot of problems with the direction this type of content is headed and how the content is being promoted.
Infographics for the Sake of Doing Infographics
Many of the infographics I see being produced these days are being created solely for the sake producing them and hopefully reaping some of their benefits in the process.  Unfortunately many of the graphics being produced are unrelated to the businesses producing them.  While this technically could have been added to my five reasons your infographic sucks post, I think it has a place here simply because it shows the direction the practice of creating infographics is headed.  If you're going to produce an infographic make sure the data or at least some aspect or theme to the graphic ties back to your business.
A while back I came across a fun graphic called TV Living Rooms We Grew Up In, the graphic was a fun look at TV families over the years with some random facts about each of the shows they were a part of.  But at the end of the graphic I was surprised to discover the graphic wasn't from an entertainment news site or the like, but a custom rug company. Sure, perhaps each of those TV living rooms had rugs, but once I looked at the graphic I had no desire to learn more about the company nor did I remember the brand.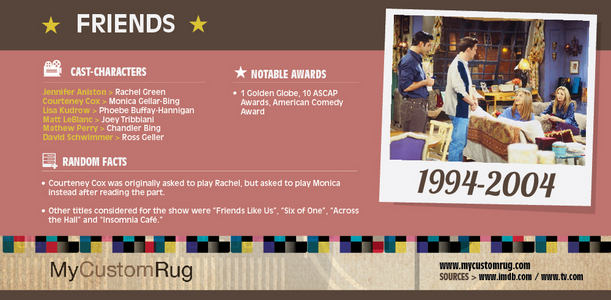 If you're going to create an infographic, make sure it serves a purpose for your business and can be tied back to data that is important to your business or its customers and will help associate your brand with the data and the product or information it represents.  Ask yourself, if search engines and social networks didn't exist would I spend time putting together this kind of data for my customer base?
The Rise of Infographic Submissions
There was a time when directory submissions were all the rage in SEO.  You paid anywhere from $10-$100 and some poor webmaster would review your website and then if you were approved your site would be listed within a relevant section of their directory.  Sites like these were a dime a dozen and were the goto for SEO link building in the early days.  Over time most directory links were devalued by Google, the sites that sold them were often penalized, and ultimately SEO's more or less walked away from directory submissions as a means of getting valuable links for websites.
But while directories may be dead, the business model that surrounded these directories has found a new life in the world of infographics.  I realized it first when I read Paddy Moogan's post early last year that featured a huge list of infographic sites that accepted both free and paid infographic submissions.  Since then many of the sites that have the most authority surrounding infographics now require a fee to review the graphic before it will be featured on the site or blog.  Sound familiar?
When Google's Matt Cutts came out last year and said he anticipates infographic links will eventually be devalued, it is these sorts of infographic links that came to mind.  Submitting your infographic to a number of websites for the purpose of links and nothing more is essentially the same practice as the directory link building and in time I anticipate this will lose all of its value, or ultimately hurt you in the form of an unnatural links penalty.
Doing Infographics Right
If you want your infographics to succeed be sure to produce content that offers value to your business and your customer.  Remember infographics represent your brand, put the same effort into your infographics that you would any other piece of marketing or branding material.  Infographics that get the most shares and exposure are informational, provide value to the consumer, are visually appealing and are many times entertaining.
A lot of people feel that infographics are dead, but the slew of infographic pinterest boards, websites, and even a recent project from Google suggest otherwise.  Good infographics are here to stay and if distributed with the correct audience in mind and through the proper channels can be highly beneficial to a business and its SEO.  If you're stuck creating junk graphics and distributing them to random sites across the net, chances are you're going to be looking for a different strategy in the next six to 12 months.