Del.icio.us to Shut Down: Save Your Bookmarks!
Del.icio.us to Shut Down: Save Your Bookmarks!
For almost 5 years, social bookmarking site del.icio.us has been the remote home of nearly 1,000 tools, informative posts, and other websites that get me through my personal and professional life.  Sadly, today, Tamar Weinberg tipped me off to speculation that the bookmarking giant owned by Yahoo may be closing.  A short while later, an update from TechCrunch confirmed the rumors announcing that del.icio.us would in fact be shut down as part of Yahoo's efforts to close, merge, and upgrade many of its services.
Aside from losing a trusted resource I have relied on for years, the closure of del.icio.us is even more frustrating after remembering I spent countless hours earlier this year finally moving over a lot of bookmarks I still had in my Firefox browser that I felt were still bookmark worthy after all these years.  After the frustration wore off, the fear kicked in, "Crap! How do I access all of those bookmarks so I don't lose them?!" As a user who relies heavily on toolbars and plugins for social sharing and bookmarking I rarely visit the del.icio.us website and wasn't really sure if there was any way to backup years of saved content.  Fortunately for me and the rest of us loyal del.icio.us users, there is!
How to Export Your Delicious Bookmarks
The export feature probably isn't that obvious to the less savvy user as its not included anywhere within your bookmarks.  Instead you will need to visit your account settings.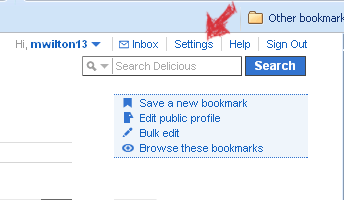 Once in your account settings you'll have the option to export your bookmarks as a backup or to save them in order to upload to your browser.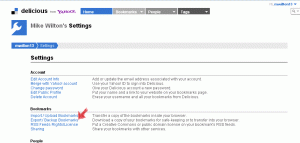 An added bonus to the export feature is the ability to not only export your bookmarks, but also to include both your tags and your notes regarding bookmarks.  Unfortunately, since I haven't yet identified a replacement service for my del.icio.us bookmarks, I'm not sure how valuable this will be.
Tamar's tweets seemed to be leaning towards the web collecting site Diigo, however while writing this post I discovered that Search Engine Land has done a post on 10 Alternatives to Delicious Bookmarking; apparently Matt also had the idea to share with users how to export their bookmarks. 😛
Regardless of what service you go with, the important thing is to get your bookmarks backed up before its too late.  Another thing to consider, if you're a toolbar/extension nut like me, is finding a social bookmarking site that you know will tie into some of your favorite extensions.  I use Shareaholic religiously and was happy to see that Diigo is in fact an option if I decide to start using it.